WHOLESALE
Whether you're interested in adding a Rocky Mountain Soda Co. Soda Fountain or stocking our cans and bottles, we're excited to work with you.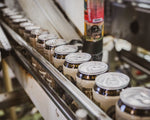 Stock our cans and bottles
When you are ready to set up an account or if you have any questions please send your business name and address to us at sales@rockymountainsoda.com.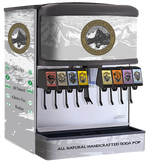 Fountain Soda
We offer our whole line of all-natural soda flavors in BIBs (Bag in a Box) for your fountain machines and bar guns. We use the same exacting standards to craft our syrups that we use for our bottles. We use state-of-the-art bib filling equipment to ensure the highest standards of quality. We still only use sparkling Colorado water, vegan cane sugar, all-natural flavors, and non-GMO citric acid to produce the best tasting, highest quality all-natural fountain soda available.
All of our 3 gallon BIBs utilize QCD universal adaptors that can be used on any fountain or gun system. We can ship BIBs direct to your place of business, whether it's just one or a pallet of 40. We ship everything fresh within ten business days of your order. We are sure your customers will love our products, and that you will love our service.
We are partnered with distributors around the country. Please contact us for a list of distributors in your area. We also offer direct sales from our factory to your business.
We use standard 3 gallon bibs with universal QCD II valves that can be added to any existing equipment. If you need fountain equipment or bar gun equipment, we can refer you to third party vendors.
When you are ready to set up an account or if you have any questions please send your business name and address at sales@rockymountainsoda.com