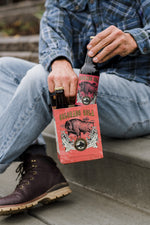 Rocky Mountain Soda was founded in 2009 by childhood friends from Golden, Colorado. We are still family owned and hand make all our own products in Denver, Colorado.
We make authentic full flavor craft soda that not only tastes great, but is all natural, gluten-free, GMO free, kosher and vegan. Our products are free of artificial flavors, artificial colors, added salts and preservatives. 
We use quality ingredients, all of which you can pronounce: Sparkling Colorado Water, Vegan Cane Sugar, Natural Flavor Extracts and non-GMO Citric Acid.
We craft each flavor in small batches and package each bottle by hand the day it is made. Our efforts are realized in every sip you take. We thank you for the opportunity to present our soda for your drinking pleasure. We hope you enjoy them as much as we do...Cheers!
We Make Our Soda Differently